The vacations after high school graduation are a time for many young people to relax after exams, look for their first job or decide on a college major. Lacking experience, financial resources and an idea for themselves, fresh high school graduates are unlikely to think about starting their own business at this time. It was different for our founders, Alexander Paczek and Wiktor Rostkowski, who took their first step in business right after graduating from high school. It was 10 years ago that they created branded hoodies for their school, and they are now realizing approx. 800 projects a year for Polish and foreign companies as MerchUp.
The beginnings of the company
The history of apparel with school logos was not very popular for many years, but the fashion created by chain stores for sweatshirts with logos of American universities made them an object of desire also among Polish teenagers.
"In 2013, when we were high school graduates, some Warsaw high schools saw that the hoodie was a must-have in the closet of students and started creating branded apparel for them. In our case at Frycz it hadn't happened yet, but in the course of discussions with classmates, the idea arose to produce them for our yearbook as a high school graduation souvenir. However, no one in the class wanted to take the initiative, so Wiktor and I decided to tackle it after the vacations. We created the prototypes through casual work over the summer. We invested our savings, which amounted to about 2,000 PLN, in them. Instead of using ready-made "imported" sweatshirts of poor quality and simply printing logos on them, we found a sewing shop near Warsaw ourselves. The graphic design, however, was the responsibility of a colleague who was going to study in this field."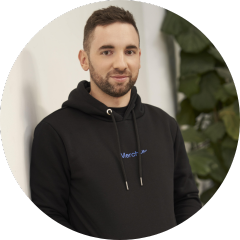 – Alexander Paczek, Co-founder of MerchUp.
Alexander and Wiktor intentionally produced more hoodies than the order from their former classmates anticipated. They distributed additional copies to students in the younger grades, who not only advertised their business, but were also involved in collecting orders from around the school. Whisper marketing at the beginning of the business proved to be a hit with them.
Further development
"News of the hoodies spread very quickly to other Warsaw schools. After the delivery of the first order to our high school, we immediately set about preparing more projects. After a few months we were already cooperating with schools from all over Poland – in the first year we completed a total of 30 orders. Then we also created a simple website ourselves, aimed strictly at individual customers. We were ahead of the competition and were one of the first in Poland to offer branded clothing with individual prints also for small businesses and music bands."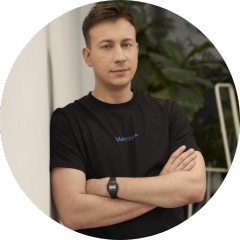 – Wiktor Rostkowski, Co-founder of MerchUp.
Customers appreciated not only the quality, but also the flexibility. In the beginning, the company focused mainly on sweatshirts, but as it grew, its offerings expanded. Currently, the product catalog includes T-shirts, caps, bags, and even umbrellas, mugs and more. The ability to adapt quickly to customers' needs has allowed the company to build a strong position in the market for personalized products.
"We closed 2020 with a revenue of 3 million PLN, noting an approximate 10% drop in sales from the previous year, which was due to the closure of schools and universities. However, we adapted to the new reality – we saw an opportunity in working with companies that wanted to value and maintain positive relationships with employees in the era of remote work. In addition to implementing standard sales and marketing activities aimed at business clients, we also relied on our recognition from the "school" market. When making contacts, it often turned out that the people we talked to had worn our hoodies while they were still in college. As a result, sales doubled in 2021, and we began to expand our offerings toward a new customer. The wide assortment of personalized clothing was joined by accessories such as bottles, mugs, backpacks and ready-made welcome packs, among others."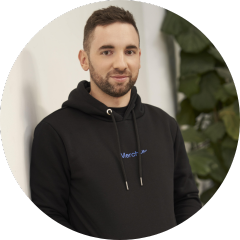 Rebranding
Rapid growth during the pandemic period resulted in the company's rebranding in 2023. It was then that the decision was made to change the name from BluzUp to MerchUp, and the image – from school, to a modern one aimed at the corporate customer.
"We have moved away from the image of a youth company producing clothing for schools. Of course, we still fulfill orders for them, but for the past few years most of our projects have been those for business customers. However, we do not cut ourselves off from our roots. All the time we sew in Polish sewing factories, we provide almost unlimited personalization possibilities, we prepare free graphic designs in the price of the service. Instead, we are beginning to put more emphasis on the offer and design of accessories and welcome packs, in which we see great potential. Operating under the MerchUp banner also allows us to expand into foreign markets – the previous name was incomprehensible to customers outside Poland."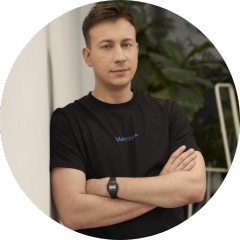 The MerchUp team continues to grow and develop. The next step is overseas expansion, which kicked off with the company's rebranding process in 2023.