Ordering, packing and shipping packages for employees or customers is a process that generates a lot of time and energy for internal teams. With Gifting as a Service, responsibility for the process shifts to MerchUp, relieving the burden on HR or marketing departments. Using this solution, companies can outsource the entire procedure of production, packaging and delivery of gifts to us.
Gifting as a Service (GaaS) is a model that is becoming an increasingly important part of corporate strategies for employee retention, business relations or brand promotion. What exactly does it consist of?
Support for HR, marketing or B2B sales teams
In recent years, human relations activities have become key. With the increasing automation of processes such as onboarding, billing and even recruiting, HR departments can focus more on those most "human" aspects of the company. Another factor is the increasing competition among employers. Due to these changes, taking care of the team's good atmosphere and job satisfaction has become one of the most important tasks of HR teams. Team gifts or welcome packs for new employees are now standard. However, this is quite a challenge due to the time it takes for the entire process of their preparation and subsequent distribution.
The situation is similar for sales and marketing departments. Gifts are a great way to maintain good relationships with customers, brand ambassadors or influencers, but finding the time to carry out such an action is quite a challenge. Coming up with, designing, ordering, packing and then sending out the packages yourself is a time-consuming process that needs to involve at least a few people.
Gifting as a Service is a service that can come in handy especially when preparing:
welcome packs for new employees,
packs to employees operating out of the office,
packs on the occasion of anniversaries, jubilees,
gifts to customers,
prizes or gifts for ambassadors,
gift packs themed: holiday or birthday.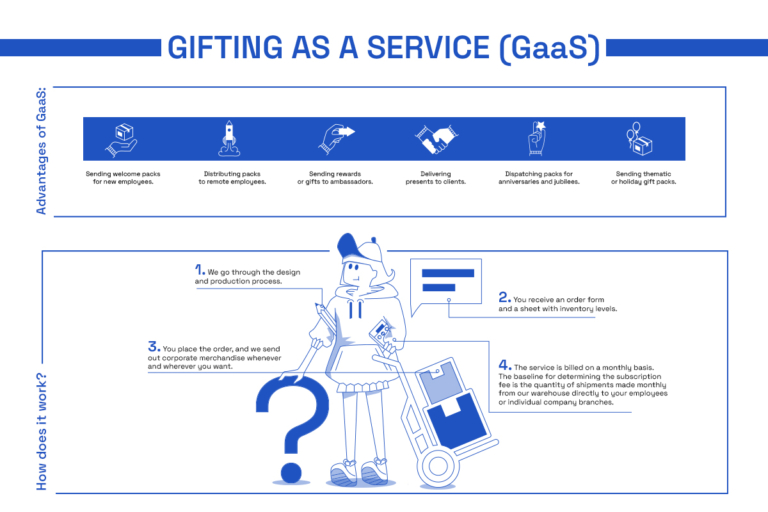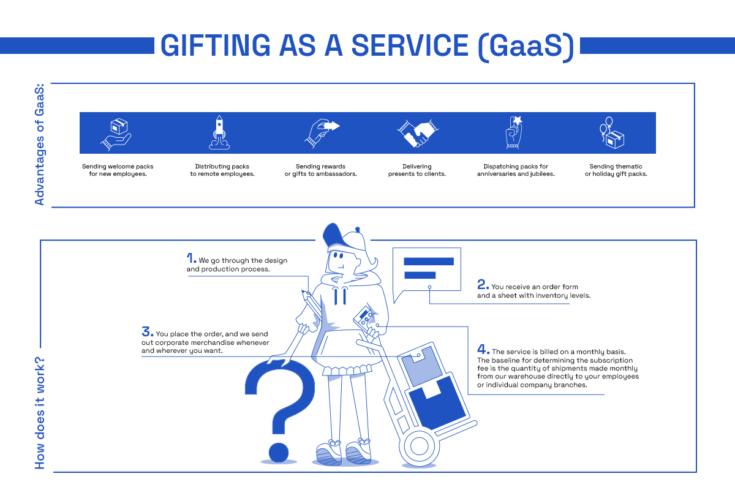 How does Gifting as a Service work?
The aim of the service is to take all the cumbersome and time-consuming gift duties off the company's internal teams. What exactly is included in these responsibilities and costs?
Design of branded products (clothing, gadgets).
Manufacturing or ordering them and marking them from other companies.
External storage of these products.
Compiling gift packages (e.g., welcome packs).
Packaging and sending them to employees, contractors, or influencers and brand ambassadors.
What is left for a company that wants to ship branded products? The best information is that not much. The most important thing is to decide exactly what products to choose and how to brand them. However, we also offer support in the design process, even for highly customized requirements!
What does the step-by-step process look like?
You choose the products and packaging, and we create free visualizations for them.
We go through the design and manufacturing process.
You will receive an order form and an inventory sheet.
You order, and we ship when and where you want!
The service is billed on a monthly model. The subscription is based on the number of shipments made monthly from our warehouse directly to your employees or individual company locations.

5 advantages of the Gifting as a Service model
1. Shipping on the part of MerchUp
After we produce and complete the gift packages for you, we can send them directly to employees and customers.
---
2. MerchUp = savings and on-hand product availability
We store all the products you order in the Gifting as a Service model in our warehouse. Using a simple form, you can have them shipped to the address you specify, and we will deliver the package within 2 business days.
---
3. Ability to collect orders
We can take over orders from your team and handle shipping.
---
4. Remote shipping department
If your plan for a welcome pack or gift to your customers includes multiple products, our shipping department will take care of picking and packing the packages from start to finish.
---
5. Creating a gift calendar
With us, you can create a gift plan for the whole year. Once such a schedule is established, you can rest easy while we take care of the smooth execution of each subsequent action.
What products do we offer in the Gifting as a Service model?
The choice is yours! In this model you can use all the items of clothing or accessories available on our site. Each product including packaging and tags can be fully branded with your company's colors and logo.
If your company sends gift packages to employees or customers, we'd be happy to save you much of the cost and hassle of doing so. And if you are just thinking about it with us you will quickly and efficiently introduce gifs into your business. Let's talk and together create merchandise packages branded with your logo!