After a successful collaboration on the 5th edition of the LinkedIn Local Virtual conference, we again joined forces with Sharebee. What was created as part of our collaboration this time?
Client's needs
Hoodies created at 5th edition of the conference were a success that we wanted to repeat. And so we did! However, Sharebee team wanted to create another version of these to differentiate them from previous editions, so we decided to go with a new color, or even colors, as different versions of the LLV kangaroo reigned supreme this year.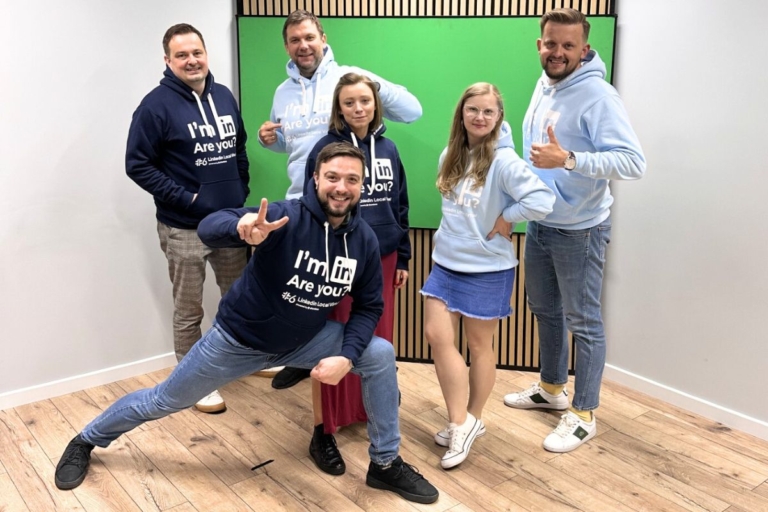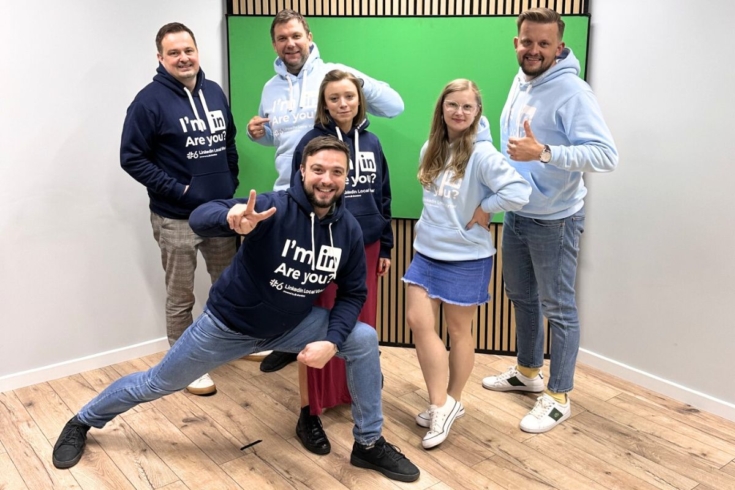 Final design
In the end, we decided on two color versions of the hoodie – blue and navy blue, which we chose from our standard palette, matching the branding of the conference.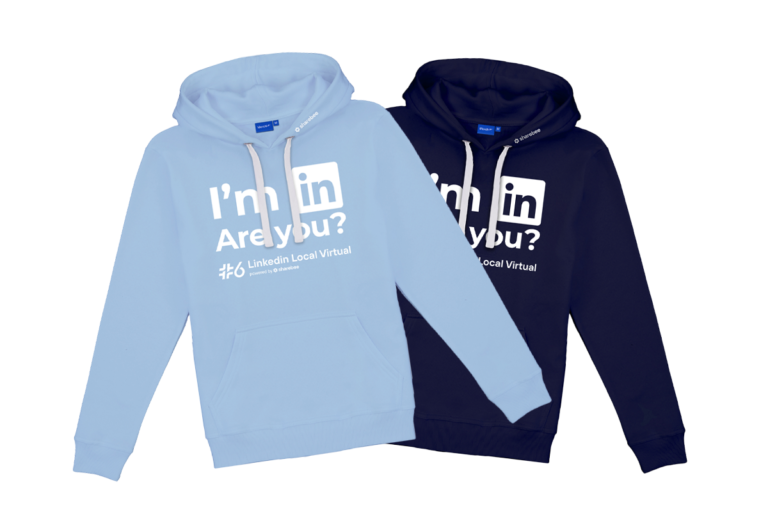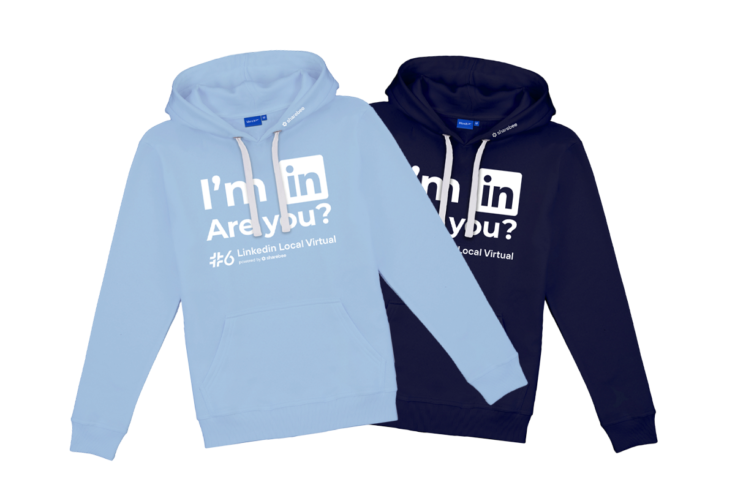 In addition, we created sweatshirts for Sharebee with their new branding, which they officially shared at the conference. Sweatshirts for members of the hive were created in their unique colors – yellow and black.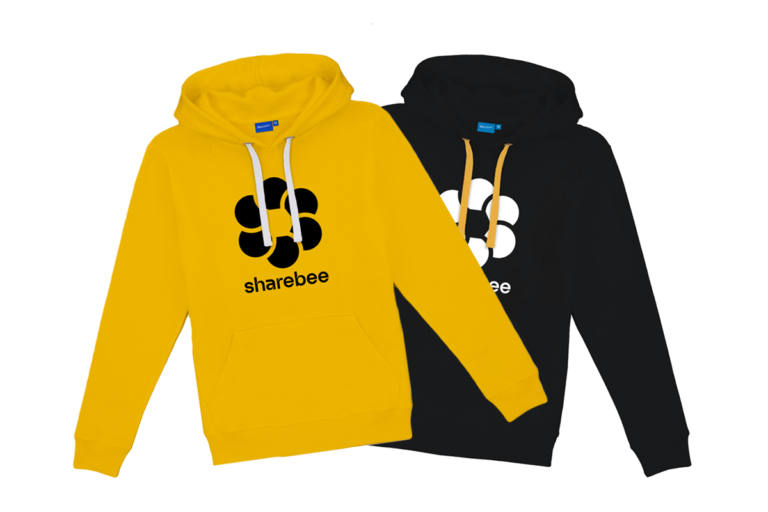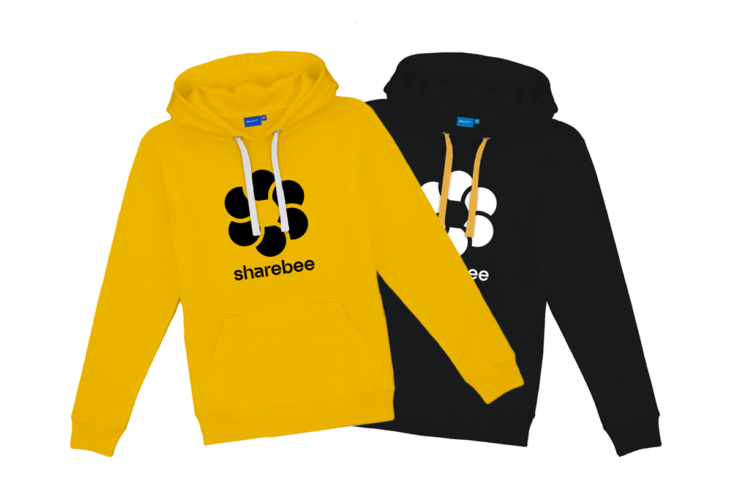 Collaboration results – merch as event promotion
Conference sweatshirts have become a hit again! Participants were delighted to receive such unique gifts that perfectly matched the theme of the event. Numerous contests were held during the conference with prizes. The competition took place through the use of the Kahoot app, where questions were asked about the speeches at the event.
The hoodies made the competitions even more exciting – after all, everyone wanted to win one! And those who succeeded were eager to show the sweatshirts on their LinkedIn profile.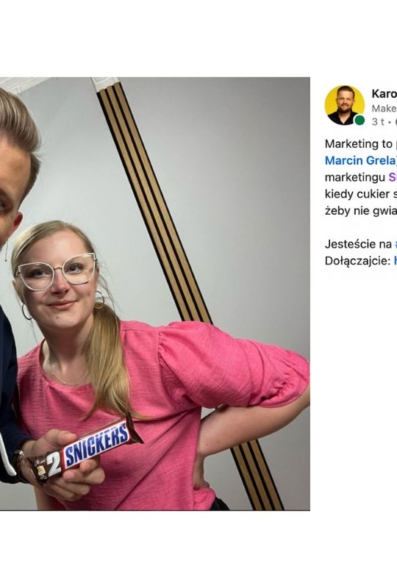 This made the hoodies a great promotional item for the LinkedIn Local Virtual conference. The event is attended by people who are interested in topics related to sales, marketing, HR and employer branding, which makes this form of promotion even more effective.
For this, the content of the event at the highest level was taken care of by the experts involved:
Luke Kosuniak
Maja Gojtowska
Matthew Jablonowski
Anna Macnar (HRM Institute)
Anna Morawiec Bartosik (HR Rebels).
Ewa Kryj Satalecka
Marcin Grela (Sales Angels)
Dariusz Borowski
Katarzyna Sitarska (Monday Group)
Maria Szalygin-Brygider (Dell Technologies)
Grzegorz Miecznikowski
Bartek Ziemiański
Anna Wawszkiewicz
Agnieszka Wnuk
Miłosz Jacyna (CANAL+)
Dorota Nowakowska (Zywiec)
Maciej Herman (Wedel)
Marcin Sokolowski (Sharebee)
Karol Stróż (Sharebee)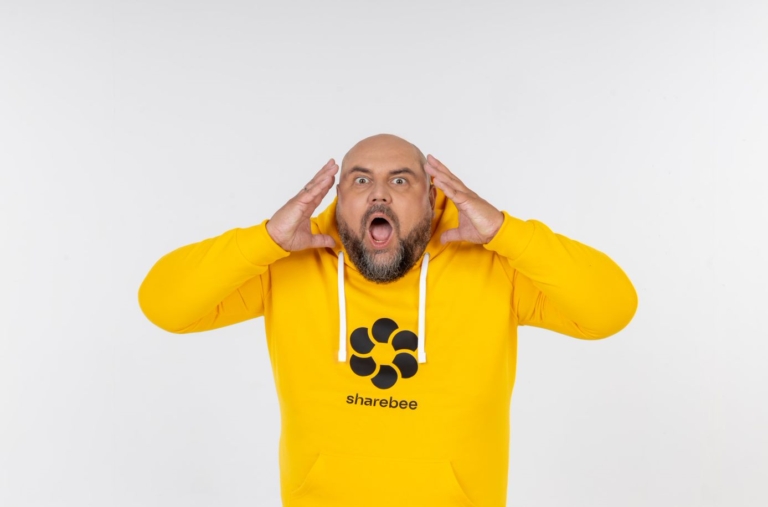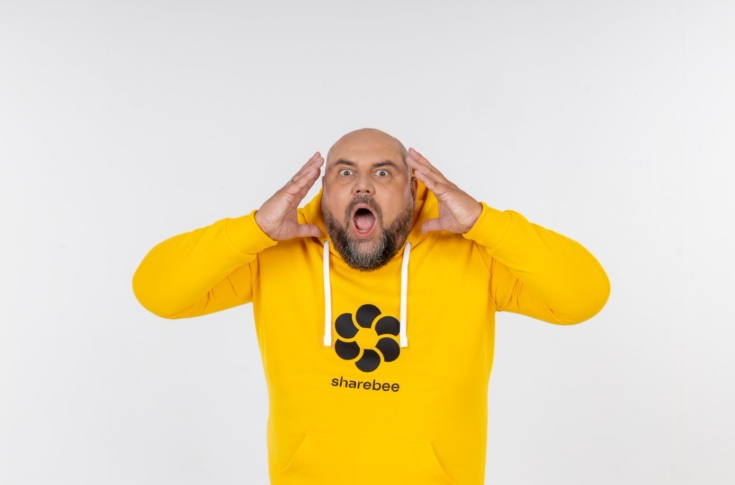 Some numbers
2 223 event registration

3 884 chat messages

300+ publications on LinkedIn
14 speeches

2 panel discussions

29 experts
MerchUp competition
After the conference and on our LinkedIn profile, you could compete for a hoodie. We held a contest in which 5 blue sweatshirts were up for grabs. The task of the participants and attendees was to come up with an idea for the perfect welcome pack, so we got a lot of inspiration from you for our finished kits!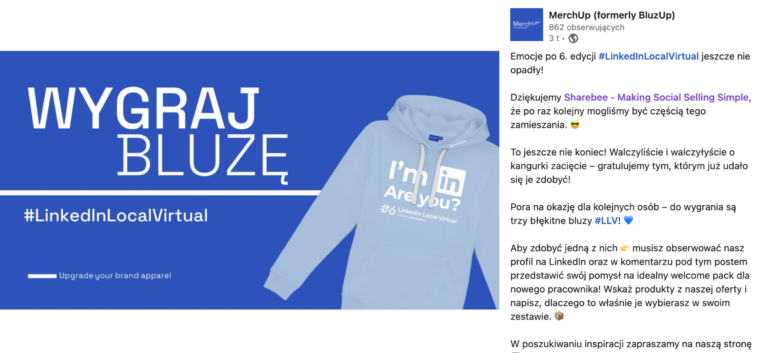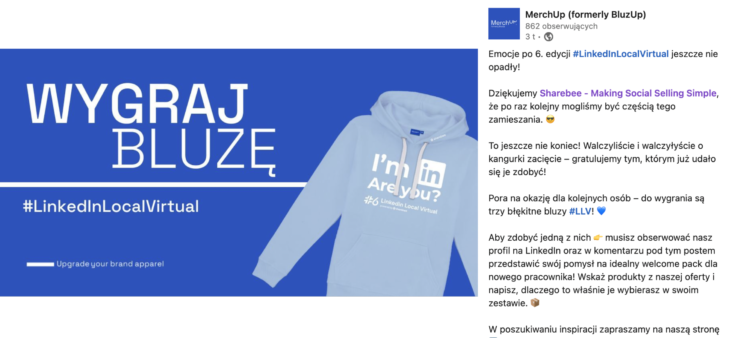 In the contest, we decided to reward the comments that showed the most ingenuity.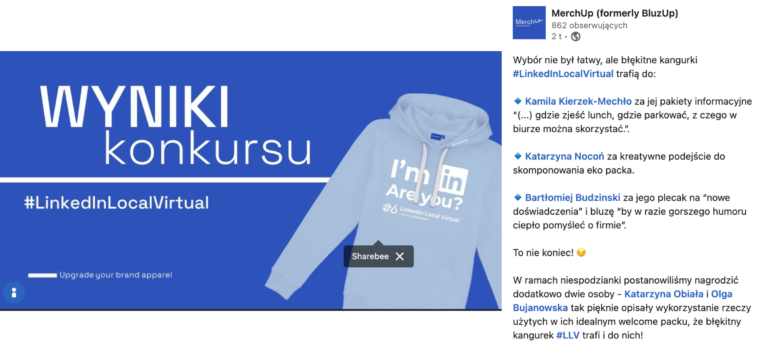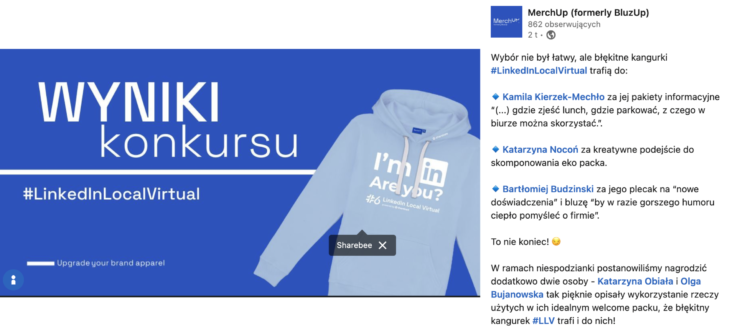 Opinion on cooperation
Once again, we were able to meet the needs and expectations of Sharebee, with whom it is always a pleasure to cooperate. The blue and navy hoodies were popular among conference attendees, and also generated a lot of interest on the LinkedIn platform. Again, this proves that personalized merch works reliably as an event promotion as well.